This is the Home Page of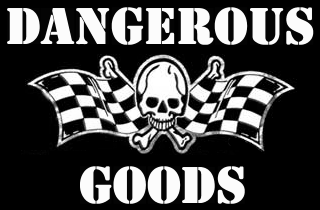 These pages last updated September, 2002.

Playing the best Aussie Pub Rock of the 70's and 80's the
way it was meant to be played. Hard, loud & Unrelenting.
We will be back playing at the Carriers Arms Hotel,
Castlemaine on Saturday 19th October, 2002!
See below for some audio cuts!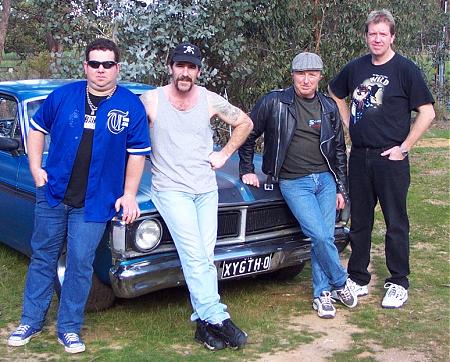 'Dangerous Goods' are a new Castlemaine based band comprising experienced local musicians (L to R), Dean Turner on drums, Tim McSweeney on lead guitar. Glenn Braybrook belts out the vocals and also plays rhythm guitar. Well known, professional musician Barry Palmer is on bass guitar and back up vocals. Dean played with 'Piece of Mind', 'Silent Bob' and is currently also playing in 'Storm Front', Tim played with 'Bad Report' then Rose Tattoo cover band 'The Tatts'. Glenn was the lead singer of legendary local band 'Darkcide'.

The band is heavily influenced by early (Bon Scott) AC/DC and play mostly Aussie Rock music from the 70's and 80's such as AC/DC, Rose Tattoo and The Angels, along with some material from Kiss and Ozzy Osbourne. They play hard and loud, with an energy level that has to be heard to be believed and the "wall of sound" from the Marshall Stacks is awesome!

See some photos from our debut gig at the Carriers Arms Hotel
in Castlemaine on Saturday 3rd August.

Click on one of the songs below to hear an audio cut (approx 50-60 secs each) in MP3 format
Crazy Train (959 kb)
Highway to Hell (906 kb)
Rock and Roll all nite (922 kb)
Scarred for Life (844 kb)
Whole Lotta Rosie (823 kb)
You shook me (1.44 mb)


We are available for parties, clubs or pubs.
For further details please

Click to E-mail us.

---